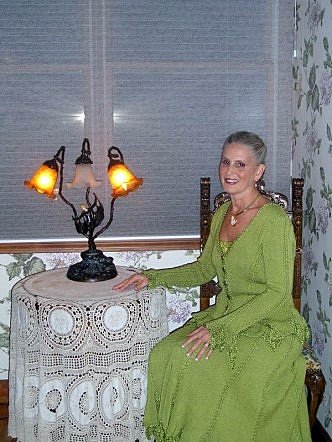 Like so many of you, I learned to knit as a young child. Taught by my mother, an excellent knitter, I soon began taking the principles of knitting and adding my own twists, much to my mother's dismay. Over the years, knitting and designing unusual garments, most done in both solid and multicolor, has seen me through some very difficult times.
Many of my designs are done diagonally, incorporating rich, textured stitches with beautiful colors.
They are designed to be flattering – to show off not only a woman's shape, but her knitting skills as well.
I am often asked, "Will I be able to actually knit something so complex?" I write my patterns in exquisite detail – nothing is left for the knitter to figure out, except which design to take on first. Expressions such as "work left front to correspond to right, reversing shaping" are NOT in my vocabulary. I rely on basic algebraic and linguistic principles to make my designs accessible to anyone who can read and execute basic knitting techniques. The unusually high quality of the designs is the result of combining techniques in a special, unique way.
I work on my designs every possible moment, squeezing knitting time into the work day, kids' soccer schedules, you name it – I am rarely without needles and yarn in my hands, except if I am driving or asleep. I have taught at several guilds and shops across the country, and have had booths at Stitches East and West for the past fifteen years.